This astronomically pleasing podcast included these wonderfully crafted musical tracks:
The Beatles – Good Day Sunshine ++ G. Love – Sunshine ++ The Raconteurs – Yellow Sun ++ Nick Drake – Pink Moon ++ Chuck Berry – Havana Moon ++ The Doors – Moonlight Drive ++ Bob Marley & The Wailers – Sun Is Shining ++ The Kinks – Sunny Afternoon ++ The Gourds – Trampled By The Sun ++ Harry Nilsson – The Moonbeam Song ++ The Allman Brothers Band – Soulshine ++ Bob Dylan – House of The Rising Sun ++ JJ Grey & Mofro – The Sun Is Shining Down ++ Shinyribs – Who Built The Moon ++ The Rolling Stones – Moonlight Mile ++ The Gourds – Moon Gone Down
From Shady Groove to you. Warm up some figgy pudding, fill your glass with holiday cheer, and enjoy our favorite of holiday traditions, the SG Podcast.
The Beatles – 1967 Xmas ++ Bruce Springsteen – Santa Claus Is Coming To Town ++ The Kinks – Father Christmas ++ Mae West – Put The Loot In The Boot, Santa ++ Binky Griptite & The Dee-Kay's – Stoned Soul Christmas ++ Chuck Berry – Christmas ++ Otis Redding – Merry Christmas, Baby ++ Jack Scott – There's Trouble Brewin' ++ Fitz & The Tantrums – Santa Stole My Lady ++ Sharon Jones & The Dap-Kings – Ain't No Chimneys In The Projects ++ Zach Gill – Party Hard ++ David Grisman – Silent Night ++ Kenny Rogers – Kentucky Homemade Christmas ++ Red Simpson – Truckin' Trees For Christmas ++ Loretta Lynn – Country Christmas ++ Johnny Cash – Blue Christmas ++ Elmo & Patsy – Grandma Got Run Over By A Reindeer ++ The Ramones – Merry Christmas (I Don't Want To Fight Tonight) ++ The Ventures – Sleigh Ride ++ Hayes Carll – Grateful For Christmas
Download Shady Groove Podcast #45: SG Xmas Show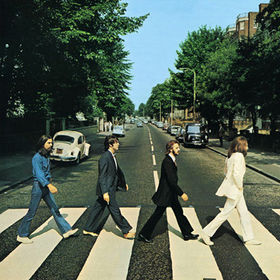 On this day in 1966 (actually yesterday Aug 8):
In response to John Lennon's remark about The Beatles being bigger than Jesus, The South African Broadcasting Corporation banned all Beatles records.
The Beatles also released their album, Revolver, in the US on this day. It spent 77 weeks on the Billboard chart, peaking at #1.
Also on this day  (Aug 8) in 1969:
The photo session for the cover of The Beatles 'Abbey Road' album took place on the crossing outside Abbey Road studios. Photographer Iain McMillan, balanced on a step-ladder in the middle of the road took six shots of John, Ringo, Paul, and George walking across the zebra crossing while a policeman held up the traffic. The band then returned to the studio and recorded overdubs on 'The End', 'I Want You (She's So Heavy)' and 'Oh! Darling'.
On another note:
Check out Atmosphere's song Guns and Cigarettes. Laden with references to the occasion, they say there gonna be "bigger than jesus and bigger than wrestling, bigger than The Beatles and bigger than breast implants".